School News
Friends of St. Finn Barr Day
On February 1st, we will be holding our annual Friends of St. Finn Barr Day. We will be welcoming guests to the classrooms - virtually. If you are interested in joining us, please rsvp to: development@stfinnbarr.org. Our students look forward to this day every year and we are so excited to continue the tradition in a new format! ☘️
---
Kindergarten Assessment Day
Our future Shamrocks did a wonderful job today on their virtual Kindergarten Assessment Day!
𝐖𝐞 𝐚𝐫𝐞 𝐬𝐭𝐢𝐥𝐥 𝐚𝐜𝐜𝐞𝐩𝐭𝐢𝐧𝐠 𝐚𝐩𝐩𝐥𝐢𝐜𝐚𝐭𝐢𝐨𝐧𝐬 𝐟𝐨𝐫 𝐭𝐡𝐞 𝟐𝟎𝟐𝟏-𝟐𝟎𝟐𝟐 𝐬𝐜𝐡𝐨𝐨𝐥 𝐲𝐞𝐚𝐫. 𝐏𝐥𝐞𝐚𝐬𝐞 𝐜𝐨𝐧𝐭𝐚𝐜𝐭 𝐌𝐬. 𝐌𝐞𝐠𝐚𝐧 𝐊𝐢𝐦𝐛𝐥𝐞 𝐟𝐨𝐫 𝐦𝐨𝐫𝐞 𝐢𝐧𝐟𝐨𝐫𝐦𝐚𝐭𝐢𝐨𝐧 - 𝐦.𝐤𝐢𝐦𝐛𝐥𝐞@𝐬𝐭𝐟𝐢𝐧𝐧𝐛𝐚𝐫𝐫.𝐨𝐫𝐠
---
Virtual Open House
Our annual Open House, in celebration of Catholic Schools Week, will be virtual this year! Learn about our vibrant St. Finn Barr Catholic School community from the comfort of your home.
Join us for a special Catholic Schools Week message, followed by our Virtual Open House at 11:00am for an opportunity to talk with teachers and administrators, "visit" classrooms and/or go on a virtual walking tour of campus with our Principal.
Please rsvp using the link below to reserve your space ☘️
---
Welcome to SFB Ms. Esola and Miss Shayla!
This week we welcomed Ms. Esola to St. Finn Barr Catholic School. Ms. Esola has a long history with Catholic schools and joins us as the long-term substitute teacher in 2nd grade. She already fits right into the SFB family!
Join us in giving a big Shamrock welcome to Ms. Esola! ☘️
We are also excited to welcome Miss Shayla Richardson back to St. Finn Barr Catholic School! Miss Shayla is a graduate of the St. Finn Barr Class of 2011 and now joins our staff as an Instructional Aide.
𝐻𝑒𝑟𝑒 𝑎𝑟𝑒 𝑎 𝑓𝑒𝑤 𝑤𝑜𝑟𝑑𝑠 𝑓𝑟𝑜𝑚 𝑀𝑖𝑠𝑠 𝑆ℎ𝑎𝑦𝑙𝑎:
"I am a proud alumna of St. Finn Barr Class of 2011. I recently graduated from UC Irvine last year with a Bachelor's degree in Film and Media Studies. I love to play video games, spend time with family and friends, and be a frequent guest at Disneyland. If I had to describe myself in three words, they would be: caring, lovable, and sociable. I'm excited to come back and work with the amazing Shamrock community and look forward to seeing everyone's smiling faces."
Join us in giving a big Shamrock welcome (back) to Miss Shayla! ☘️
---
Happy Birthday, Ms. Kimble!
While we were on holiday break, our wonderful principal celebrated a birthday. 𝙃𝙖𝙥𝙥𝙮 (𝘽𝙚𝙡𝙖𝙩𝙚𝙙) 𝘽𝙞𝙧𝙩𝙝𝙙𝙖𝙮, 𝙈𝙨. 𝙆𝙞𝙢𝙗𝙡𝙚!
We hope you enjoyed your special day!
---
---
More birthday messages here!
---
---
2020 Rewind
Thank you for being a part of our family! As we reflect on some of our most memorable moments of the past year, we are so inspired by the resiliency, compassion and drive shown by our entire St. Finn Barr community. We are looking forward to a new year of continued partnership with you!
---
Happy New Year!
Wishing you a wonderful start to your new year. We pray you took the time to rest, unplug, and enjoy time with your family over these past two weeks. Please take a moment to complete this Return to School Survey, which is an in-depth Health Check provided by the Archdiocese of San Francisco. This survey must be completed before your child(ren) return to school the week of January 4th.
The Weekly Bulletin for the Week of January 4th - January 8th can be found here. This weekly bulletin includes important safety reminders for returning to school and events that are occurring this month. Reminder: Cohort B will return to school on Monday, January 4th and Cohort A will return to school on Tuesday, January 5th.

---
Merry Christmas!
Wishing a joyous and safe Christmas to all families and friends of St. Finn Barr Catholic School! ☘️
---
Storytime with Ms. Kimble
A very special reading of "Twas the Evening of Christmas" from Ms. Kimble!
---
Christmas Greetings and Reminders
Dear St. Finn Barr Families,
We pray you have a safe and joyful Christmas holiday. Please take a moment to view this Christmas greeting and reminders before we begin our break.
We look forward to seeing you all again on Monday, January 4th!
𝘼𝙙𝙙𝙞𝙩𝙞𝙤𝙣𝙖𝙡 𝙍𝙚𝙢𝙞𝙣𝙙𝙚𝙧𝙨:
Ms. Kimble will send an in-depth Health Check to all families on Friday, January 1st, which must be completed before returning to campus the week of January 4th.
The Weekly Bulletin for the week of January 4th - January 8th will be sent to families on the evening of January 3rd.
---
Virtual Talent Show!
Many thanks to our SFB students, families, and friends who joined us for a fantastic Friday evening to view all of our school's talents hosted by the Student Council. WOW! What a terrific presentation. A special thank you to our Student Council for creating such a wonderful event that allowed us to come together as a community in such a fun and entertaining way! ☘️
In case you missed the show, or want to view it again, here is a recording of our webinar:
---
Virtual Art Programs with Mr. B
Our very own Mr. B will be running after school virtual art programs beginning in January, via the Sirron Norris Academy. Please see the flyer for details and reach out to Mr. B with any questions - b.metcalf@stfinnbarr.org
---
Trimester 1 Honor Roll & Students of the Month
Congratulations to all of our Trimester 1 Honor Roll students, as well as the Students of the Month for September-November!
6th Grade
First Honors
Klara Cardenas
Tatiana Deanda
Valentino Delgado-Schaumberg
Peyton Diaz
Aurelia Duverge
Liliana Flamenco
Camila Garcia
Dylan Garcia
Isabella Maestas
Indira Maurille
Ileana Taschek
Kayley Yang
Harrison Yip
Second Honors
Dylan Chemla
Lola Guandique
Chloe Ramirez
Mateo Trujillo
Aiden Weyer-Jamora
Sean Wong
Third Honors
Sofia Avalos-Gutierrez
Cristina Bolts
Anthony Caires
Maliyah Cerda
Frederica Chea
Aida Donahue
Jackson Padilla
Alec Schneider
7th Grade
First Honors
Riley Guajardo
Parker Gumm
Sophia Klosterman
Jonathan Nepomuceno
Martin Novoa
Soffi Parra-Bautista
Alejandro Siopack
Antonio Siopack
Second Honors
Isaiah Campos
Clarke James Canta
Lucian Cheung
Julian Davis
Noah Hudon
Benjamin McClure
Antonio Moreno
Hazel Nagata-Rampata
Kiara Solares
Aaron Vanegas
Mateo Villarin
Violette Walenne
Third Honors
Anastasia Anderson
Dylan Choi
Niko Faba-Escudero
Sophie Rivadeneyra
8th Grade
First Honors
Isabella Aguilera
Evan Danaher
Giovannie Lazo
Dat Ly
Jack Mireles
Fiona Mulderrig
Helena Murguz
Juliana Murguz
Emily Raley
Eduardo Razo
Ean Richardson
Ava Schneider
Leila-Ximone Vasquez
Sofia Wall
Alyssa Wong
Tristan Woo
Second Honors
Clinton Higginbotham
Third Honors
Justin Basada
Marco Romero
Sienna Cortes
Calvin Portillo
Josephine Espinoza-Schleicher
Students of the Month - representing our Student Learning Expectations (SLEs)
September - Demonstrates respect for family, the local and global community, and the earth through acts of stewardship.
1st Grade: Ani Hernandez
2nd Grade: Somaya Coleman
3rd Grade: Ella Brady
4th Grade: Joaquin Tamanaha
5th Grade: Camilo Vasquez
6th Grade: Liliana Flamenco
7th Grade: Parker Gumm
8th Grade: Evan Danaher
October - Live Gospel values as Jesus taught us through prayer, study, and acts of service.
1st Grade: Maya Wade
2nd Grade: Arabella Lam
3rd Grade: Kyndle Martinez
4th Grade: Chloe Suggitt
5th Grade: Eric Jimenez
6th Grade: Dylan Garcia
7th Grade: Soffi Parra-Bautista
8th Grade: Isabella Aguilera
November - Serve as builders of unity and instruments of reconciliation.
1st Grade: Avery Villegas
2nd Grade: Andrew Villasenor
3rd Grade: Seth Martinez
4th Grade: Bailey Moreno
5th Grade: Elisia Ortegon
6th Grade: Tatiana Deanda
7th Grade: Alejandro Siopack
8th Grade: Giovanni Lazo
---
Welcome Back, Shamrocks!
Wrapping up our first week with Kindergarten-8th Grade classes on campus, participating in our HyFlex Learning Model! We are so proud of our students for being such great listeners and following all of the new protocols so we can continue keeping each other safe. ☘️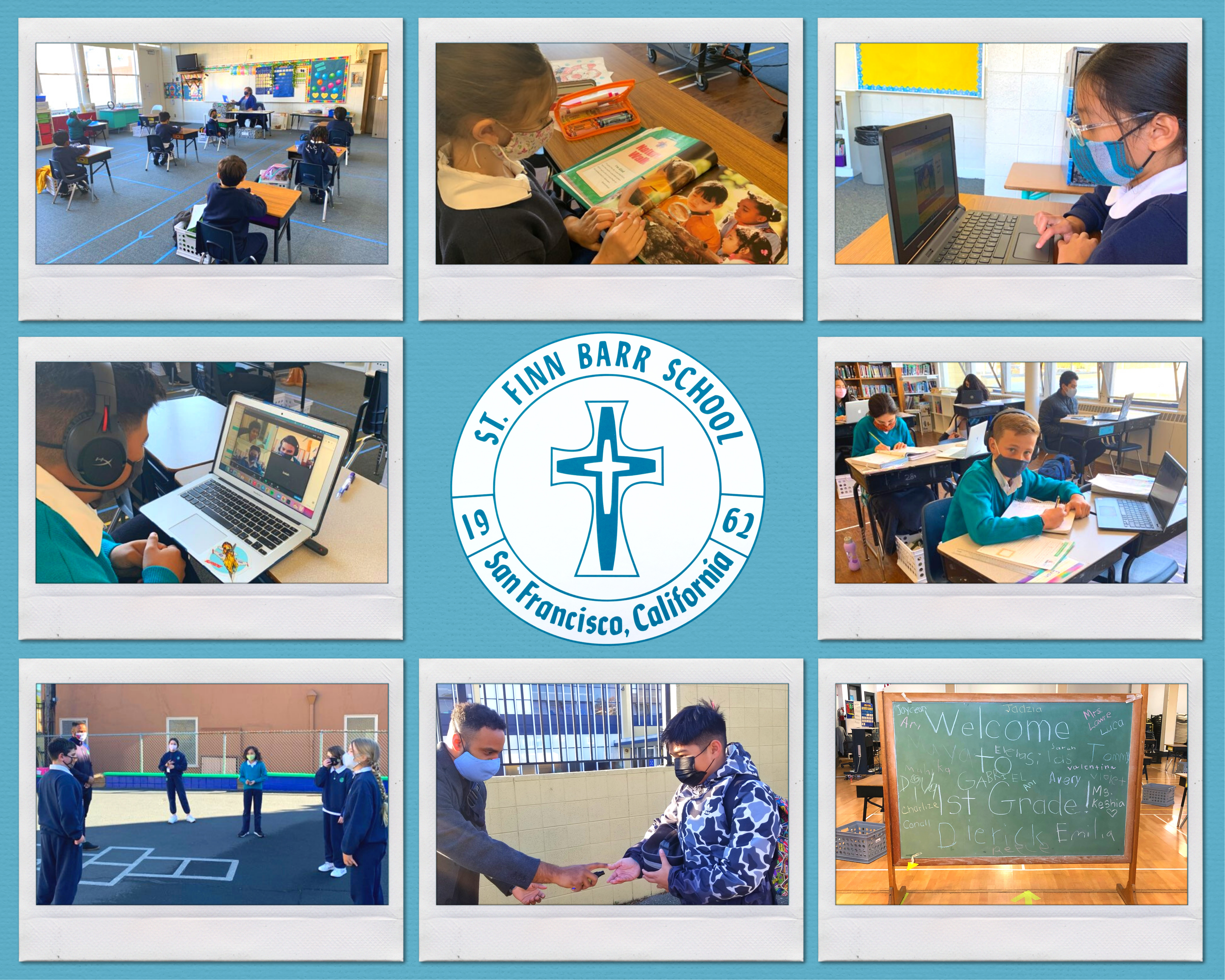 ---
SFFD Virtual Toy Drive
St. Finn Barr Catholic School is proud to partner with the SFFD Toy Program and help brighten the holiday season for children in need! This year our annual toy drive will be virtual. At the end of the drive, all toys will be shipped to the SF Firefighters for distribution.
Join us in spreading holiday cheer to children in our community! Simply click here!
Thank you so much for your generosity!
---
SFB Talent Show!

SFB Student Council is hosting a virtual Talent Show on Friday, December 11th at 6:30pm.
If you would like to audition, please film your act and submit here.
Acts must be under three minutes in length. Submissions should be posted to the above link by Friday, December 4th in order to be considered.
Please email Ms. Shimeld if you have any questions!
---
Happy Thanksgiving
Wishing you and your families a blessed and safe Thanksgiving!
We are so grateful for our entire St. Finn Barr Catholic School community!
---
Holiday Safety and Travel
Please take a moment to listen to this important message from Ms. Kimble regarding holiday safety and travel this year.
Praying you have a wonderful Thanksgiving holiday!
---
Holiday & Travel Letter from Superintendent of Catholic Schools
Dear Families,
Please take a moment to read this important letter from our Superintendent, Ms. Pamela Lyons, regarding holiday safety and travel.


---
Welcome Back, Shamrocks! ☘️
We are delighted to welcome our Kindergarten, First and Second Grade students back to campus this week in our HyFlex Learning Model. Thank you for your continued support and patience!
---


Best of the Best!

We are proud to announce that we have once again received the ɢᴏʟᴅ ᴍᴇᴅᴀʟ for 𝘽𝙚𝙨𝙩 𝙋𝙧𝙞𝙫𝙖𝙩𝙚 𝙀𝙡𝙚𝙢𝙚𝙣𝙩𝙖𝙧𝙮 and 𝘽𝙚𝙨𝙩 𝙋𝙧𝙞𝙫𝙖𝙩𝙚 𝙈𝙞𝙙𝙙𝙡𝙚 𝙎𝙘𝙝𝙤𝙤𝙡 in San Francisco/Marin! This year, we were also awarded a medal for achieving Hall of Fame status!
Thank you so much to everyone in our community for helping us achieve this honor!
---
New Website!
We are excited to announce that our new website is LIVE! Please take some time to look around! We hope you enjoy the streamlined new look.
---
Thank You, Men's Club!
A huge THANK YOU to the St. Finn Barr Men's Club for helping us prepare the campus for our students! They have dedicated numerous hours over the weekends and in the evenings to ensure our classrooms, yard, hallways, and Goode Hall are marked and ready for students as soon as the Department of Public Health tells us that we can have students on campus. We cannot thank them enough for all of their time and effort!