School News
Walk-a-thon - Thank You!
Thank you all for participating in our Walk-a-Thon this year! With your support we raised $25,000 and donations are still being counted!

At the morning assembly on Friday, December 3rd, we will announce all of the fundraising and walker winners.
If you are still interested in supporting St. Finn Barr Catholic School, please check out our donation page here.
---
Advent Prayer Book
Join us as we celebrate the season of Advent through prayer and reflection. We invite your family to participate in this special time daily.
---
Father Raymond's Thanksgiving Message
---
Pancake Breakfast with Santa
Sunday, December 5th: 9:30am - 12:30pm
We are so excited to bring this traditional holiday event back this year! Every student that attends Sunday mass and the Pancake Breakfast will receive Free Dress on Monday, December 6th.
Dine-in and take-out options available. Note: Dine-in guests ages 12 and up are required to show proof of vaccination.
Pre-Order your meal(s), Gingerbread kit and/or Ornament decorating kit here by Friday, December 3rd!
---
Volleyball Champions!
𝗖𝗬𝗢 𝗩𝗼𝗹𝗹𝗲𝘆𝗯𝗮𝗹𝗹 𝗖𝗵𝗮𝗺𝗽𝗶𝗼𝗻𝘀! Congratulations to our 8th grade girls and coaches on a wonderful season! Go Shamrocks! ☘️
---
Holiday Giving
Virtual Thanksgiving Food Drive - Help us celebrate the holidays this year by supporting our neighbors in need and making a donation to the San Francisco-Marin Food Bank. Food drive dates: Sunday, November 14 - Wednesday, December 1.
Click here to make a donation! Thank you for your generosity!
SFCASA Holiday Giving Tree - Give the gift of joy and brighten up the holidays for a child in foster care. Take an ornament from the giving tree in the school lobby, fulfill the wish on the ornament and return the gift to school by Wednesday, December 1st. Or shop directly from the SFCASA gift wish list here.
--> SFCASA Holiday Gift Drive Flyer
---
Volleyball Champions!

What an exciting weekend for our 4th grade girls volleyball team! 𝐂𝐘𝐎 𝐂𝐡𝐚𝐦𝐩𝐢𝐨𝐧𝐬! We are so proud of you!
Go Shamrocks! ☘️
---
Fall Postseason
Congratulations to all of our St. Finn Barr teams advancing to postseason!
Special recognition to Riley, who represented St. Finn Barr at the CYO Athletics 8th Grade Volleyball Achievement Game. In addition, our volleyball coaches - Eric Klosterman and Mike Guajardo - were chosen to coach the Achievement Game.
GO SHAMROCKS! ☘️
---
SFB Walk-a-thon
We can't wait to get our Shamrock community together for our 12th Annual Walk-a-thon on Saturday, November 13th! This year we will be "𝗥𝗔𝗜𝗦𝗜𝗡𝗚 𝗥𝗘𝗦𝗢𝗨𝗥𝗖𝗘𝗦 𝗙𝗢𝗥 𝗥𝗘𝗦𝗢𝗨𝗥𝗖𝗘". This is our first mandatory fundraiser of the year for participating families.
Funds generated will help support our amazing Resource Team, Ms. Patsy Bouvet and Ms. Kate Deaton-Gupta. The work they do supports not only the academic needs but also the social and emotional well-being of our students, especially as we transition from hybrid learning to full-time on-campus learning.
Friends and family are invited to attribute a gift to your student(s) through a pledge by clicking HERE!
Please refer to our Community Event tab to read all of the details about this fun event - including the information packet, FAQ sheet and volunteer opportunities!
Note: although this is an outdoor event, everyone is required to properly wear a face mask at all times except while eating and drinking. We appreciate your understanding and cooperation in caring for the health and safety of our community.
Your participation will make this a fun and successful day! GO SHAMROCKS!


🎶 Music provided by DJ Toast!

---
Chipotle Fundraiser
7th and 8th Grade classes are hosting a Chipotle Fundraiser this Wednesday November 3rd, at the 1523 Sloat Boulevard location, to raise funds for their joint class Yosemite trip!
Order online for pickup using code: BTNJTJ2 or show the attached flyer in restaurant.
For details, please see instructions here.
Thank you for your support! ☘️
---
Halloween
We look forward to welcoming students in costume (optional, as always) for school Friday, October 29th.
Inflatable costumes will not be permitted on campus for the Halloween Celebration.

Other important notes:
Dismissal will take place at 12:30pm.
We will not hold class parties this school year (this includes no treats or trinkets).
Costumes may not include fake weapons or depictions of violence/alcohol/drugs.
Standard free dress guidelines regarding appropriate dress (ex. no short shorts, spaghetti straps, miniskirts, etc.) apply for costumes.
Costumes that could be offensive or perpetuate a stereotype of someone's culture, gender, heritage, religion, etc. are not permitted.
Thank you for your understanding!
---
Science
Thank you, Mrs. Ula, for making science exciting and fun for our students!
7th Grade is working on cells - the building blocks of life!
"Nucleus with DNA"

6th graders made barometers which predict changes in the atmospheric air pressure.
Different Density: 6th Grade is also learning about density. These are solutions with different densities. The students had to figure out their density by layering each color in a straw so it would not mix with a different color (heaviest/most dense at the bottom).
---
School Tours
Families and Friends of St. Finn Barr - please share the 𝗦𝗵𝗮𝗺𝗿𝗼𝗰𝗸 𝘀𝗽𝗶𝗿𝗶𝘁! In-person school tours are available on Friday mornings at 9:00am. 𝘙𝘦𝘴𝘦𝘳𝘷𝘢𝘵𝘪𝘰𝘯𝘴 𝘳𝘦𝘲𝘶𝘪𝘳𝘦𝘥.
For details, please visit: https://stfinnbarr.org/admissions/apply-now
---
Feast of St. Francis
Our students were thrilled by our special visitors during morning recess yesterday - thank you to the San Francisco Police Department! A perfect way to celebrate the feast day of the patron of our city, St. Francis of Assisi. Students were also invited to bring stuffed animals and photographs of their pet(s) as we said a special prayer over them for the traditional Blessing of the Animals.
---
St. Finn Barr Feast Day

The Feast Day of St. Finn Barr will be celebrated at the 9:00am mass on Sunday, September 26th. We would like to host an outdoor coffee and donut social time afterward to celebrate St. Finn Barr's Feast Day.
We are in need of volunteers to help us host this event so that it is a safe and fun time for everyone!
Please sign up below if you are interested in helping!
---
Outdoor Movie Night
Save the date for St. Finn Barr Catholic School's first ever Outdoor Movie Night on Friday, September 24th, featuring the Disney & Pixar film - Luca!
This outdoor event will require masks, social distancing and an RSVP (since we are permitting a limited number of guests to ensure proper distancing).
Please look out for the RSVP link in Ms. Kimble's Sunday bulletin.
---
Fall Sports Update
If you have any questions, please contact:
Rosie Perieff
Athletic Director
ad@stfinnbarr.org

---
First Week
Thank you for an amazing first full week of school!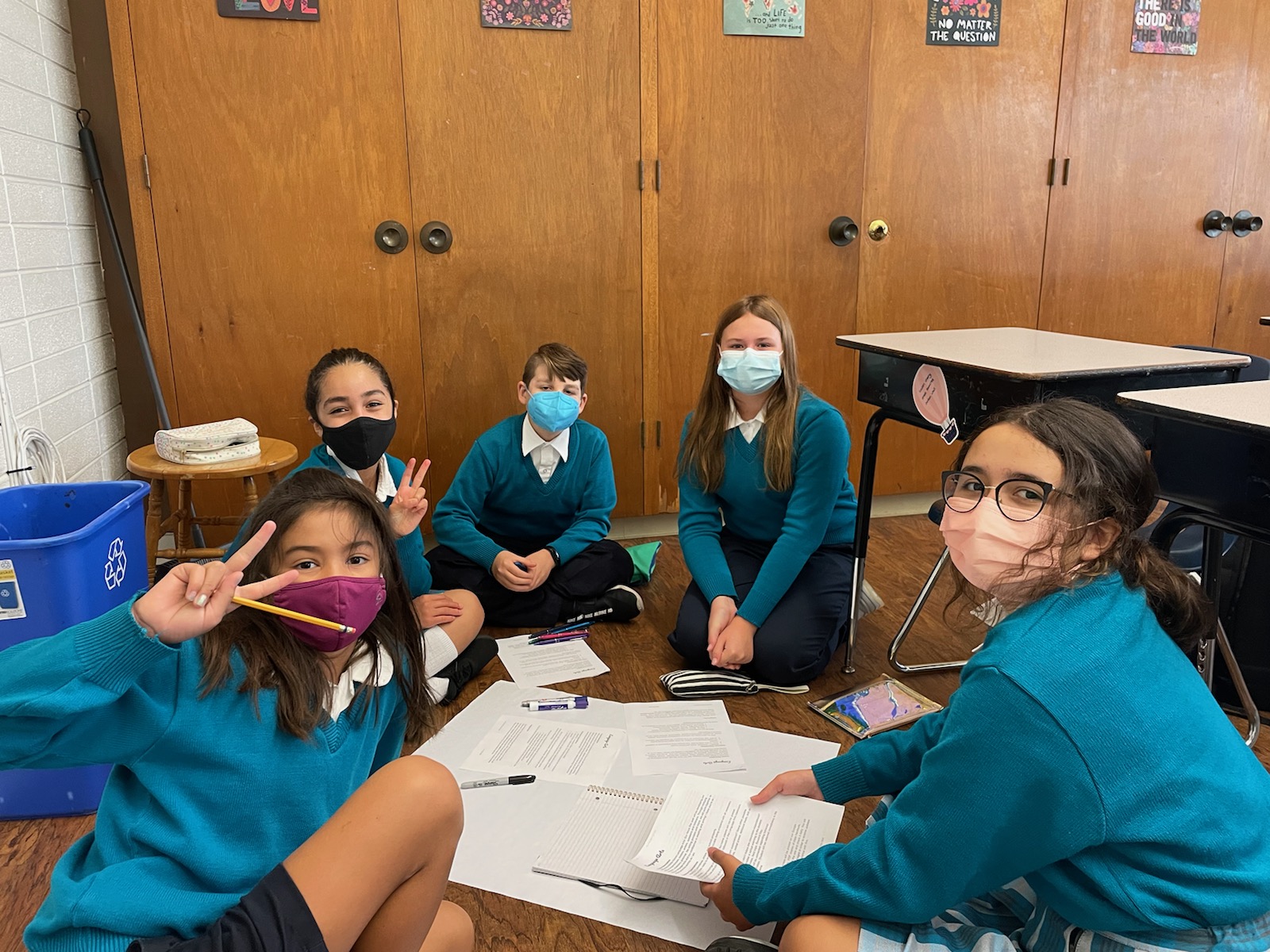 ---
Back to School Mass
---
Reminders for Morning Drop Off
---
Welcome Back
Welcome to the 2021-2022 school year!
Lord, thank you for the unique gifts of every child as they transition into a new school year. Fill each student with fresh enthusiasm and a heart that is excited to learn and grow. Cover them with your enduring love, give them confidence and grace, and equip them with the ability to persevere through trials. Bless their teachers with wisdom, understanding, and a heart to serve, as they embark on the journey together.
---
First Day Reminders
We are eager to welcome our students back to the St. Finn Barr Catholic School Campus tomorrow. Please take a moment to review some reminders for tomorrow and the three days ahead.
Please also take a moment to review the Quarantine Protocol in case your child must isolate or quarantine due to COVID-19 exposure or testing positive.
Masks are required on school grounds.
.


Updated Quarantine Protocol
Please read carefully.
If a child tests positive for or is exposed to COVID-19, each teacher's online learning platform and gradebook will support home-school communication.
These tools will be utilized to assign and collect student work both in the classroom and at home, ensuring students and parents know what is expected, can complete assignments, and can monitor student progress.
In cases where a student will need to isolate or quarantine due to COVID-19 exposure or testing positive, the following steps are planned:
The family of the student on quarantine or isolation procedures will be provided instructions for accessing the grade-level appropriate online learning platform for a modified classroom curriculum.
Students who are sick or unable to attend school for reasons other than required quarantine will not be offered or required to complete this modified curriculum.
At most, families should expect instructional resources from teachers by the 2nd day of quarantine. Resources and assignments will be provided throughout the quarantine period, rather than provided all at once.
The three components of the quarantine curriculum (modified curriculum) are:
Asynchronous Instruction can be delivered in a variety of ways. Adaptive software such as AR Reading, BrainPop, Flocabulary, FOSS Web, History Alive, IXL, Lexia, Mathletics, and RAZ Kids, etc. may include instructional videos and activities.
Assignments for practice and formative assessment will be varied and substantive. Adaptive software will include practice and assessments, but students will also have an opportunity to access the activities their classmates are completing in school. Google Classroom, Seesaw, and the like will be used to send and collect those assignments. For K-2, some assignments may be delivered via email or will be available through the office.
Teacher check-ins ensure a continued connection to the classroom community. Teachers will check-in with students. The principal of the school or the classroom teacher will send a follow-up email to the child's guardian to create a plan for teacher check-ins.
In order for any student to return after the period of quarantining, a note from the child's doctor must be provided to Ms. Kimble before they can return to school.
Any student who is quarantining, cannot participate in any outside activities such as but not limited to sports, after school program, enrichments, etc.
Technology Update
Third, Fourth, and Fifth-Grade
The third through fifth-grade classes will have class sets of Chromebooks available in their classrooms. Each student will have an assigned Chromebook, and all students will only use the Chromebooks provided and assigned to them in the classroom.
Middle School
It is recommended that the sixth through eighth-grade students bring their own device - "BYOD" - (laptop, Chromebook, tablet, or iPad) to school. While students are encouraged to bring their own device to school, each classroom will have Chromebooks available for student use if a student does not bring a device to school.
Click below to access your child's technology contract.
The last page of the contract is due to teachers on Thursday, August 19th.
---
Welcome Back to School

We are so excited to welcome you all to the 2021-2022 school year!
As we prepare for the first few days of school, please take a moment to carefully read Ms. Kimble's bulletin here.
---
Kindergarten Information Night
---
Support the Middle School Classroom Library
Support the Middle School Classroom Library and get your hours by clicking here.
Any book donated to the class library will have a sticker that tells students who donated the book.
$10 = 1 hour
Thank you!
---
WASC/WCEA Accreditation

We are proud to share that the 2021 WASC/WCEA Accreditation process proved a great success for St. Finn Barr Catholic School! The self-study report developed by the faculty and staff in collaboration with school parents was affirmed by the visiting committee, who rated the school "highly effective" in nine out of ten accreditation factors.
As a result, the school was granted a 𝗳𝘂𝗹𝗹 𝟲-𝘆𝗲𝗮𝗿 𝗮𝗰𝗰𝗿𝗲𝗱𝗶𝘁𝗮𝘁𝗶𝗼𝗻 status. For each year before 2027, the school will submit a report on the Action Plan generated by the 2021 self-study document.
---
Art Fair

Student Council is proud to present the following Art Fair Gallery! Thank you to all students who participated in this year's art fair!
---
Celebrate the Class of 2021
𝗚𝗿𝗮𝗱𝘂𝗮𝘁𝗶𝗼𝗻 𝗱𝗮𝘆 𝗶𝘀 𝗵𝗲𝗿𝗲! Tune in to celebrate the Class of 2021 live at 5:00pm (PST).
St. Finn Barr Catholic School Eighth Grade Graduation Mass and Ceremony
Jun 3, 2021 05:00 PM Pacific Time (US and Canada)

https://us02web.zoom.us/j/88157515440?pwd=bWhZRkQr...

Passcode: SFB2021
---
Class of 2021
Please keep our 8th graders and their families in your prayers as they celebrate the end of their journey at St. Finn Barr Catholic School in a graduation ceremony this evening.
𝗖𝗹𝗮𝘀𝘀 𝗼𝗳 𝟮𝟬𝟮𝟭 - We are so proud of each and every one of you! The future is yours! ☘️



---
Kindergarten Graduation
Special prayers for our youngest Shamrocks today as they graduate from Kindergarten!
We are so proud of your accomplishments this year! ☘️
---
Career Day
A world of possibilities! Thank you for participating in career day, Shamrocks!
---
Pajama Day
First grade is full of Pajama Day spirit! ☘️
---
2021-2022 Registration
Dear Parents/Guardians,
2021-22 registration forms are now available in your School Speak account.
Log into your School Speak account (contact LaChon Richardson if you need your login information).
On the left side of the screen, click on "Registration 2021-22" under "school".
Step 1- You will be asked to update your profile. Please update both parent & student profiles. It is important to complete this step.
Step 2- These are the registration forms that you will need to complete (code of conduct & tuition contract).
Click on "submit" when the forms are complete.
Informational forms are attached to the registration page (uniform information, tuition rates, yearly calendar etc)
Note:
The 2021-2022 tuition rates are attached to the registration page.
We are excited to announce a new uniform jumper option for K-5th grades. The jumpers are available at Simply Uniform.
Please complete the registration forms by May 28th.
Contact LaChon Richardson, L.Richardson@stfinnbarr.org, with any questions.
---
Virtual Workout FUNraiser

Coach Zack of O2 BodyFit (a local bootcamp started by an SFB alum!) will be leading a fun and high-energy workout Sunday morning, May 16th from 10:00am-11:00am. Click here for more details and to signup/pay online. This event can handle 100 squares at $10 per link.
Invite friends and family...all are welcome and encouraged to join! We welcome donations in any amount even if you are not able to do the workout.
Thank you for your support!
---
May Crowning
May is the month of Mary! During May, throughout the Catholic world, special devotions honor the Virgin Mary. "May Crowning" is a traditional Catholic ritual that occurs in the month of May and recognizes Mary as Queen of heaven and earth.
.
.
.


---
Thank You, Teachers!
This week we celebrate our amazing teachers and staff!
Thank you for your unwavering commitment to the students and families of St. Finn Barr Catholic School! ☘️

---
4th Grade Mission Projects
We are so impressed with the effort and creativity of our 4th graders' Mission Projects! Well done!
Here are just a few of the wonderful projects -


---
SFB Face Mask Fundraiser

The Class of 2022 is selling custom-made SFB Face Masks - new logo style added. Please see the attached flyer for details! Proceeds will go toward the class Yosemite trip, taking place next school year, or graduation costs.
If you would like to place an order, or have any questions, please contact:
Pamela Villarin (Soleil, 3rd & Mateo, 7th) - pamela.malinis@gmail.com
Thank you for your support,
7th Grade
Class of 2022


---
St. Finn Barr Catholic School: Rise Up (Isaiah 60:1-2)

It is hard to believe we are wrapping up Catholic Schools Week, but we had such a wonderful week celebrating the spirit, learning, and growing that occurs each day in our school.
Thanks to Gary Villegas (first and third-grade dad), we can share the beautiful testimony of how strong our community has been during a very unique school year through this awesome video to all of our families and friends of St. Finn Barr. We hope you enjoy!
Thank you for all of the ways you have supported us this year and always! ☘️
Music in this Video -
Song: Rise Up
Artist: Andra Day
Album: Cheers to the Fall
---
Virtual Open House Welcome
Today is a very special day in our community, as we kick off our annual Catholic Schools Week celebration with our (first-ever virtual) Open House!
Before beginning your virtual visit, please take a moment to view this welcome message from our pastor Fr. William McCain and our school principal, Ms. Megan Kimble.
Welcome to Catholic Schools Week! ☘️
---
Catholic Schools Week!
We are so excited to kick off 𝗖𝗮𝘁𝗵𝗼𝗹𝗶𝗰 𝗦𝗰𝗵𝗼𝗼𝗹𝘀 𝗪𝗲𝗲𝗸 this Sunday with our Virtual Open House at 11am! We have several fun activities planned throughout the week - parents/students, please look on your Beehively pages to see how you can help us celebrate!
Catholic Schools Week is an annual celebration of Catholic education in the United States. Planned events focus on the value Catholic education provides to young people and its contributions to Church, local communities and the nation.


---
Virtual Open House
Our annual Open House, in celebration of Catholic Schools Week, will be virtual this year! Learn about our vibrant St. Finn Barr Catholic School community from the comfort of your home.
Join us for a special Catholic Schools Week message, followed by our Virtual Open House at 11:00am for an opportunity to talk with teachers and administrators, "visit" classrooms and/or go on a virtual walking tour of campus with our Principal.
Please rsvp using the link below to reserve your space ☘️
---
2020 Rewind

Thank you for being a part of our family! As we reflect on some of our most memorable moments of the past year, we are so inspired by the resiliency, compassion and drive shown by our entire St. Finn Barr community. We are looking forward to a new year of continued partnership with you!
---
Welcome Back, Shamrocks!
Wrapping up our first week with Kindergarten-8th Grade classes on campus, participating in our HyFlex Learning Model! We are so proud of our students for being such great listeners and following all of the new protocols so we can continue keeping each other safe. ☘️