School News
Feast of Saint Finn Barr Festival Sponsors and Donors
A big 𝗧𝗛𝗔𝗡𝗞 𝗬𝗢𝗨 to our Feast of Saint Finn Barr Festival sponsors and donors! Your support means so much to our community.
We can't wait to see you all this Sunday! ☘️
---
Athletics Department Lunch Sales
SFB Athletics will be offering lunch service during minimum dismissal days in October: Monday, 10/16 - Friday, 10/20 (Parent-Teacher Conference Week) and Monday, 10/23.
All meals include a fruit and drink. The deadline to order is Wednesday, October 11, 2023. Please submit one order form per student.
---
Fall Enrichment Registration
We are excited to offer a number of enrichment opportunities to our students this Fall! Program registration is now open and will close on Monday, September 11th. Please click below for program details and registration information.
---
SFB Wins Gold
Thank you to everyone who voted for SFB in the annual Bay Area Parent Best of the Best ballot! We are proud to once again win the Gold medal for Best Private Elementary School in San Francisco/Marin, as well as the Gold medal for Best Private Middle School in San Francisco/Marin!
---
Dropoff and Dismissal Protocol
---
Uniform Exchange
---
Feast of St. Finn Barr Festival

We are so excited for the return of the Feast of St. Finn Barr Festival! Mark your calendars and join us on Sunday, September 24th!
More information to come ☘️
---
Summer Playdates

---
Congratulations to the St. Finn Barr Catholic School Class of 2023!

We have made many wonderful memories together at SFB, and they will be memories you cherish as you move into high school and the years beyond that. But we will also hold on to those memories because, you see, once you're a Shamrock, you will 𝘢𝘭𝘸𝘢𝘺𝘴 be a Shamrock! We could not be more proud of how you have carried yourself and flourished during this time and we look forward to hearing all about your many accomplishments as you continue to pursue your education as critical thinkers, lifelong learners, and compassionate children of God.
Wishing you blessings on your next step!
---
Class of 2025 Yosemite Fundraiser
---
A Day of Prayer

𝘼 𝘿𝙖𝙮 𝙤𝙛 𝙋𝙧𝙖𝙮𝙚𝙧 for students at St Finn Barr School and Parish in preparation for their reception of the Sacrament of First Holy Communion and Confirmation.
We thank the parents and sponsors for joining the candidates in preparing this special event in their lives. We also thank them for snacks and lunch.
We thank Father Raymond and Father Emmanuel for celebrating the sacrament of reconciliation with the candidates.
They ended their day by reading the letters written by their parents in appreciation for their gifts and accomplishments.
We are grateful for the many blessings God has bestowed on these candidates. Thank you all for your prayers.
From,
Mrs. P and Juliet
---
Science Expo 2023
𝗗𝗶𝘀𝗰𝗼𝘃𝗲𝗿 𝗦𝗰𝗶𝗲𝗻𝗰𝗲 𝗧𝗵𝗿𝗼𝘂𝗴𝗵 𝗘𝘅𝗽𝗹𝗼𝗿𝗮𝘁𝗶𝗼𝗻! Students in Kindergarten through 7th Grade visited the Science Exploratorium hosted by 8th Grade yesterday, where they interacted with remarkable experiments created by our eighth graders!

Click here to view images!
---
First Holy Communion
Congratulations to our First Communicants! May you feel the warmth and comfort of the Lord's love with you every day. We are grateful to Mrs. Wall for preparing our second grade students for this sacrament.
---
Father McCain
Dear Family and Friends of St. Finn Barr Catholic School,
It is with heavy hearts that we announce the passing of Father William McCain, who peacefully drifted into the loving arms of our Lord surrounded by loved ones last night, Thursday, April 13, 2023.
Father McCain faithfully served our school and parish community from 2012 until the spring of 2021. Let us hold Father and his family and friends in our prayers.
At this time, funeral arrangements are pending.
Eternal rest grant unto him, O Lord, and let perpetual light shine upon him. May his soul, and the souls of all the faithful departed, through the mercy of God, rest in peace. Amen.
𝙁𝙖𝙩𝙝𝙚𝙧 𝙒𝙞𝙡𝙡𝙞𝙖𝙢 𝙃. 𝙈𝙘𝘾𝙖𝙞𝙣
Born: March 13, 1957
Ordained to the Priesthood of Jesus Christ: November 22, 1986
Died: April 13, 2023
---
Happy Easter!
Christ is risen! Hallelujah! May the miracle of Easter bring you renewed hope, faith, love, and joy.

---
School Calendar 2023-2024
The 2023-2024 school days calendar is now available. Please click below to access!


---
Thank you, Mrs. O'Reilly!
We would like to share that after forty years of service to St. Finn Barr Catholic School, Mrs. O'Reilly will retire at the end of this school year.
As our beloved kindergarten teacher, her care, compassion, and thirst for knowledge have inspired hundreds of students and left solid and positive impressions on our graduates - to the point that many of her previous students are bringing their own children back to SFB for the kindergarten experience they enjoyed. We thank Mrs. O'Reilly for her many years of dedication and look forward to building on the legacy she leaves with us as she enters this new chapter in her life!
---
Boys CYO Volleyball
Our 5th Grade boys volleyball team is championship bound! Cheer them on this Sunday, April 2nd at 3:00pm @ Riordan High School Gym!
GO SHAMROCKS!
---
Archdiocesan Choral Festival
32nd Annual Archdiocesan Choral Festival, hosted at Archbishop Riordan High School. Thank you to our SFB Choir members and to our wonderful choir director, Mrs. Julia Mulholland, for sharing your gifts with us all!
---
Reader's Week

It's Reader's Week at SFB, which means we are celebrating our love of literacy with special events all week. Happy reading!
---
Scholastic Book Fair

The Scholastic Book Fair is coming to SFB! SAVE THE DATE for Tuesday, February 28th - Friday, March 3rd and get ready to empower your reader with book choices.
Start exploring together: St. Finn Barr School Scholastic Book Fair.

---
Grandparents and Special Persons' Day
It was a special morning on campus yesterday as we were blessed to celebrate the Grandparents and Special Persons in our students' lives. Thank you to all who were able to attend!
We are especially grateful to our parent volunteers who planned a beautiful reception for all to enjoy!
---
SFCASA Holiday Giving Tree - Thank You!
Thank you St. Finn Barr School! The SFCASA Youth Holiday Party was a great success. All in attendance had a wonderful time, each child left with a special gift chosen just for them as well as lots of other goodies. The day was filled with cookie decorating, sketch artist drawings, games, a hair and make-up section and of course the always popular BINGO! The court dog, Nemo, also made an appearance.
SFCASA would like to thank the St. Finn Barr School community for their generosity and for helping to make this day, this holiday tradition, so special!
You can read more about the day here.
.
.
---
Incoming Kindergarten Assessment Day
Great work, future Shamrocks! It was so wonderful to see you and your families this past Saturday for Kindergarten Assessment Day!

---
Spring After School Enrichment Programs
Registration is now open for our Spring Enrichment programs! The deadline to enroll is Wednesday, January 11th. Click here to view information on the various programs being offered!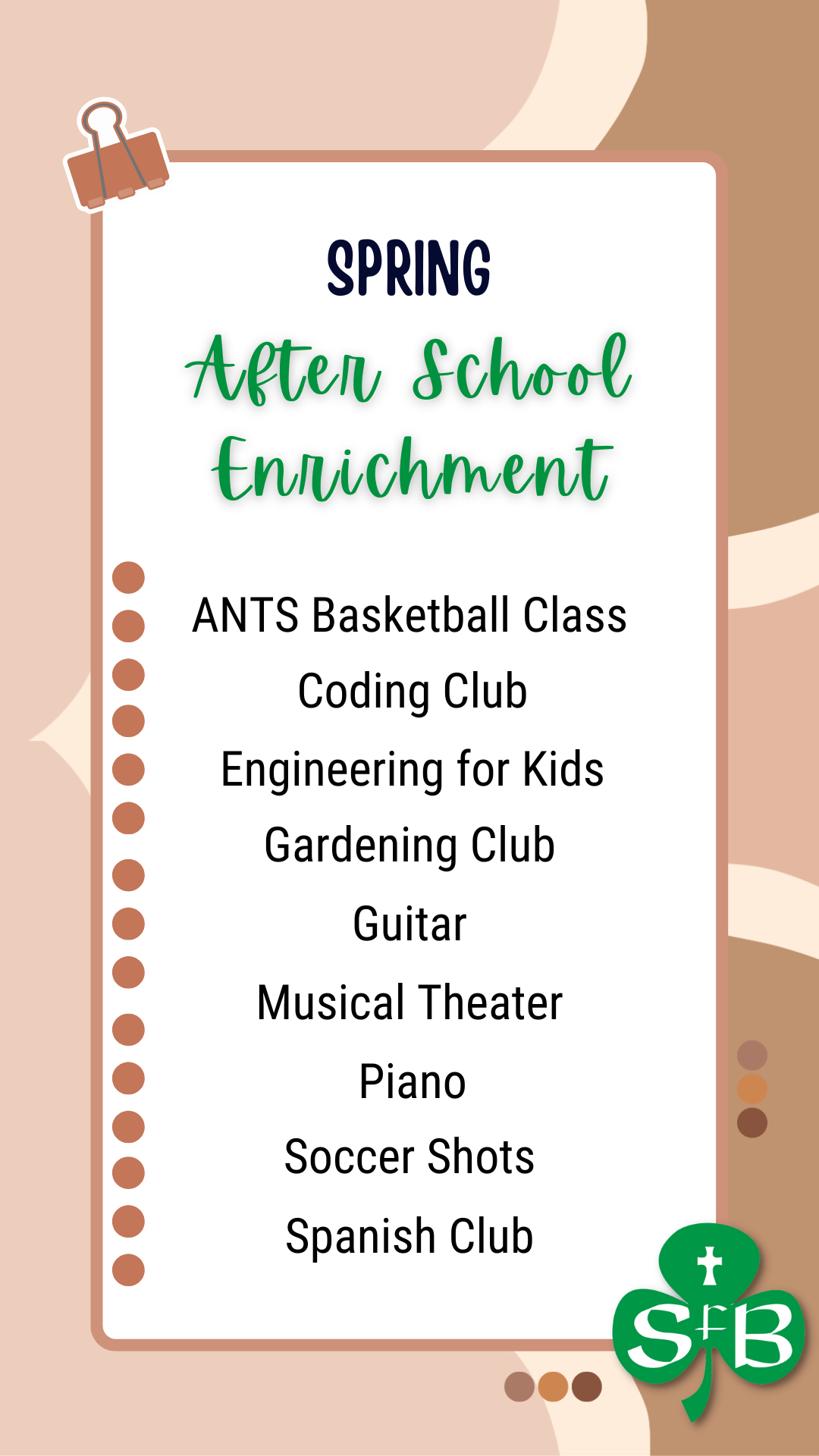 ---
Merry Christmas, SFB!
---
Holiday Service Drives
The SF Firefighters Toys Team arrived on campus to pick up all of your generous toy donations. In addition, we were able to drop off a car full of coats/jackets and cold weather accessories! Thank you so much for helping to brighten the holiday season for children and families in the community!
---
Christmas Card Design - Contest Winner!
Congratulations to Lauryn (5th Grade) on your winning Christmas card design! Thank you to everyone that entered a design in our contest. All of the wonderful entries we received will be on display in the front hallway until Christmas break.
---


WASC/WCEA Accreditation

We are proud to share that the 2021 WASC/WCEA Accreditation process proved a great success for St. Finn Barr Catholic School! The self-study report developed by the faculty and staff in collaboration with school parents was affirmed by the visiting committee, who rated the school "highly effective" in nine out of ten accreditation factors.
As a result, the school was granted a 𝗳𝘂𝗹𝗹 𝟲-𝘆𝗲𝗮𝗿 𝗮𝗰𝗰𝗿𝗲𝗱𝗶𝘁𝗮𝘁𝗶𝗼𝗻 status. For each year before 2027, the school will submit a report on the Action Plan generated by the 2021 self-study document.
---