School News
Grandparents and Special Persons' Day
It was a special morning on campus yesterday as we were blessed to celebrate the Grandparents and Special Persons in our students' lives. Thank you to all who were able to attend!
We are especially grateful to our parent volunteers who planned a beautiful reception for all to enjoy!
---
SFCASA Holiday Giving Tree - Thank You!
Thank you St. Finn Barr School! The SFCASA Youth Holiday Party was a great success. All in attendance had a wonderful time, each child left with a special gift chosen just for them as well as lots of other goodies. The day was filled with cookie decorating, sketch artist drawings, games, a hair and make-up section and of course the always popular BINGO! The court dog, Nemo, also made an appearance.
SFCASA would like to thank the St. Finn Barr School community for their generosity and for helping to make this day, this holiday tradition, so special!
You can read more about the day here.
.
.
---
Incoming Kindergarten Assessment Day
Great work, future Shamrocks! It was so wonderful to see you and your families this past Saturday for Kindergarten Assessment Day!

---
Spring After School Enrichment Programs
Registration is now open for our Spring Enrichment programs! The deadline to enroll is Wednesday, January 11th. Click here to view information on the various programs being offered!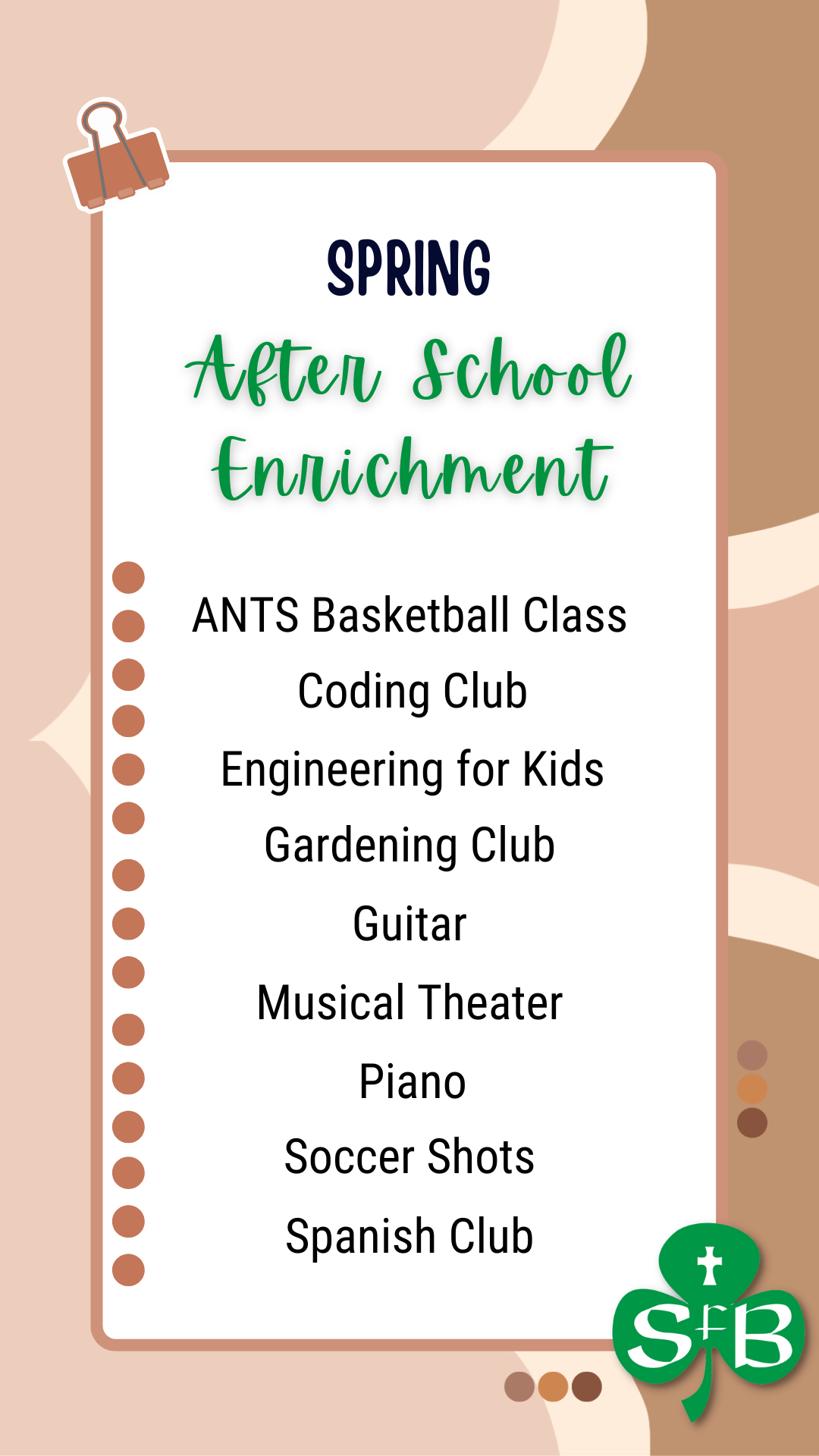 ---
Merry Christmas, SFB!
---
Holiday Service Drives
The SF Firefighters Toys Team arrived on campus to pick up all of your generous toy donations. In addition, we were able to drop off a car full of coats/jackets and cold weather accessories! Thank you so much for helping to brighten the holiday season for children and families in the community!
---
Christmas Card Design - Contest Winner!
Congratulations to Lauryn (5th Grade) on your winning Christmas card design! Thank you to everyone that entered a design in our contest. All of the wonderful entries we received will be on display in the front hallway until Christmas break.
---
Breakfast with Santa
Many thanks to the SFB Men's Club and everyone who supported this year's Breakfast Pastries with Santa!
---
Happy Thanksgiving

May your Thanksgiving day be full of peace, joy and love! We are so grateful for all of you - our SFB community, families and friends.
---
Christmas Card Design Contest
All SFB students are invited to submit a design for our Christmas Card Contest! Designs are due on Monday, November 28th. Please turn in to Ms. Kimble's office.
We can't wait to see your entries!
---
CYO Girls Volleyball Playoffs
Congratulations to our CYO Girls Volleyball teams for advancing to the postseason! Let's show that SFB spirit at their playoff games starting tomorrow, Friday November 11th!
𝗚𝗼 𝗦𝗵𝗮𝗺𝗿𝗼𝗰𝗸𝘀!
---
CYO Boys Soccer Advances to Championship
Our 5th Grade and 7th/8th Grade Boys CYO Soccer teams have advanced to the Championship this Saturday!
𝗚𝗼 𝗦𝗵𝗮𝗺𝗿𝗼𝗰𝗸𝘀!
---
CYO Boys Soccer Postseason

Congratulations to our 3rd/4th Grade, 5th Grade and 7th/8th Grade CYO Boys Soccer teams on advancing to postseason! We hope you will cheer them on at their playoff games this Saturday, November 5th! Go Shamrocks! ☘️
---
Happy Halloween, SFB!
---
School Tours
𝐉𝐨𝐢𝐧 𝐨𝐮𝐫 𝐟𝐚𝐦𝐢𝐥𝐲! We invite you to consider our school for the education of your child. Admissions for the 2023-2024 school year is under way now. School tours are offered in-person on Thursdays at 9:00am, by appointment. Schedule your tour today by clicking here!
We look forward to welcoming you!
---
Feast of Saint Francis
A special morning on campus today as we celebrated the Feast of Saint Francis with the Blessing of the Animals, followed by a wonderful school mass. Thank you to all who were able to join us!
Thank you to our students, Father Raymond and the St. Finn Barr school choir for a wonderful service this morning celebrating the patron saint of our city. Saint Francis, pray for us!
.
.
. .
. .
---
Letter from the President
One of our 6th graders wrote a letter to the President of the United States over the summer. She thought about all of the things in our environment and our world that are happening and wanted to let the President and Vice President know that they could help with funding and spreading the idea around the country to help protect endangered animals and take care of our planet. Our student expressed the belief that "if America can get this started then the whole world can follow".
She was so excited to receive a letter in return from the President and wanted to share it with our school community!
---
Back to School 2022-2023
Welcome back, Shamrocks! We feel incredibly blessed to begin this new school year with each of you!
---
Best of the Best 2022
We are pleased to share that St. Finn Barr Catholic School has won Gold for the Best Private Elementary School and Gold for the Best Private Middle School in San Francisco/Marin!
Thank you to everyone who voted for SFB in the Bay Area Parent Family Favorite 2022 and especially to our amazing faculty, staff, and families who make St. Finn Barr Catholic School so special!
---
School Supplies and Summer Assignments
You may find links to your grade's school supply list and summer assignment(s) by clicking here.
---
End of Year Prayer

At the end of this school year we give thanks to God:
For all the teaching and learning that has taken place in our school, in our classrooms, and in our homes;
For the talents and gifts that have been shared, and the challenges that have been faced;
For the burdens that have been lifted, and the hurts that have been healed;
For the respect and care that has been given.
We give thanks for the friendships that have just begun, and for those that have grown;
For the faith that has been lived in our daily struggles;
For the hope that has lifted our hearts on the dark days, and for the love that has kept us going.
We give thanks for the community that we are, and we ask you Lord to bless our families as we begin our time apart from each other.
May our time shared together leave us with memories to cherish.
Pour out your love on us that we may return renewed and refreshed to continue our journey together.
We make this prayer through Christ our Lord. Amen.
𝗛𝗮𝘃𝗲 𝗮 𝘄𝗼𝗻𝗱𝗲𝗿𝗳𝘂𝗹 𝘀𝘂𝗺𝗺𝗲𝗿, 𝗦𝗵𝗮𝗺𝗿𝗼𝗰𝗸𝘀! ☘️
---
8th Grade Graduation
𝗖𝗼𝗻𝗴𝗿𝗮𝘁𝘂𝗹𝗮𝘁𝗶𝗼𝗻𝘀 𝘁𝗼 𝘁𝗵𝗲 𝗦𝘁. 𝗙𝗶𝗻𝗻 𝗕𝗮𝗿𝗿 𝗖𝗹𝗮𝘀𝘀 𝗼𝗳 𝟮𝟬𝟮𝟮! We could not be more proud of your achievements during your years as St. Finn Barr Shamrocks and look forward with great anticipation to the good news that is yet to come from you in your new role as alumni.
We are keeping you and your families in our prayers as you transition into high school. We pray that you are compassionate children of God, critical thinkers, and lifelong learners and that you will always remember that the St. Finn Barr community is here for you!
---
Kindergarten Graduation
Congratulations to our youngest Shamrocks on your graduation from Kindergarten! You have learned and grown so much this year and we are very proud of you all!
---
Last Day of 8th Grade

Last day of school for our 8th graders! We are so proud of you for all the remarkable things you have achieved in your time at St. Finn Barr Catholic School.
We look forward to celebrating you at Graduation tomorrow!
---
Uniform Exchange This Week
We're proud to provide pre-loved uniforms from and for our SFB Community. There are a range of sizes available. First-come first-received. No payment necessary. Help us Recycle, Reuse and Return the Kindness!
The Uniform Exchange Task Force will be partnering with our Merchandise team on the dates below. Pick up pre-loved uniforms and purchase spirit wear at the same time!
Location: Goode Hall
Dates & Times
| | |
| --- | --- |
| Tuesday, May 31 | 3 - 5PM |
| Wed, June 1 | 3 - 5PM |
| Thu, June 2 | 3 - 5PM |
| Fri, June 3 | 3 - 5PM |
Interested in volunteering for this event?
Please click here for volunteer opportunities!
Questions? Contact our Uniform Exchange Task Force:
Wendy Venegas wenleung28@gmail.com
Elaina Ford elainaacostaford@gmail.com
Maite Aijon maiteaijon2003@yahoo.com
---
Spring Night Out - Thank You!
Heartfelt thank you to our dedicated volunteers, generous auction donors and attendees! We raised over $8,000 and had so much fun spending a beautiful Spring evening with you!
---
Saints Project
In preparation for Confirmation, the 8th Grade class conducted a research project on one of our saints. Students studied who this saint was and the work that they performed.
8th graders shared what they learned, including why their saint was inspiring, with the 6th Grade class. Great work, 8th Grade!
---
First Holy Communion
This is the day that the Lord has made. Rejoice and be glad in it. Congratulations to our First Communicants! We are so excited for you as you reach this next step in your faith life.
Thank you to everyone that helped prepare the children for this special day!
---
SFB Times

Our 6th graders have been hard at work creating a digital newspaper for Writer's Workshop. We are excited to share the 𝐒𝐅𝐁 𝐓𝐢𝐦𝐞𝐬 with you!
Happy reading! ☘️
Click below to read...
---
7th Grade Science
Exploring what happens to air particles when a volume of air is heated and cooled.
---
Happy Birthday, Ms. Kimble!
Please join us in wishing a very 𝗛𝗮𝗽𝗽𝘆 𝗕𝗶𝗿𝘁𝗵𝗱𝗮𝘆 to our amazing principal, Ms. Kimble! 🎈
May God bless you on your special day for all the good you do for our school and the important role you play in our community.
---
Science

Thank you, Mrs. Ula, for making science exciting and fun for our students!
7th Grade is working on cells - the building blocks of life!
"Nucleus with DNA"

6th graders made barometers which predict changes in the atmospheric air pressure.
Different Density: 6th Grade is also learning about density. These are solutions with different densities. The students had to figure out their density by layering each color in a straw so it would not mix with a different color (heaviest/most dense at the bottom).
---
Fall Sports Update
If you have any questions, please contact:
Rosie Perieff
Athletic Director
ad@stfinnbarr.org

---
First Week
Thank you for an amazing first full week of school!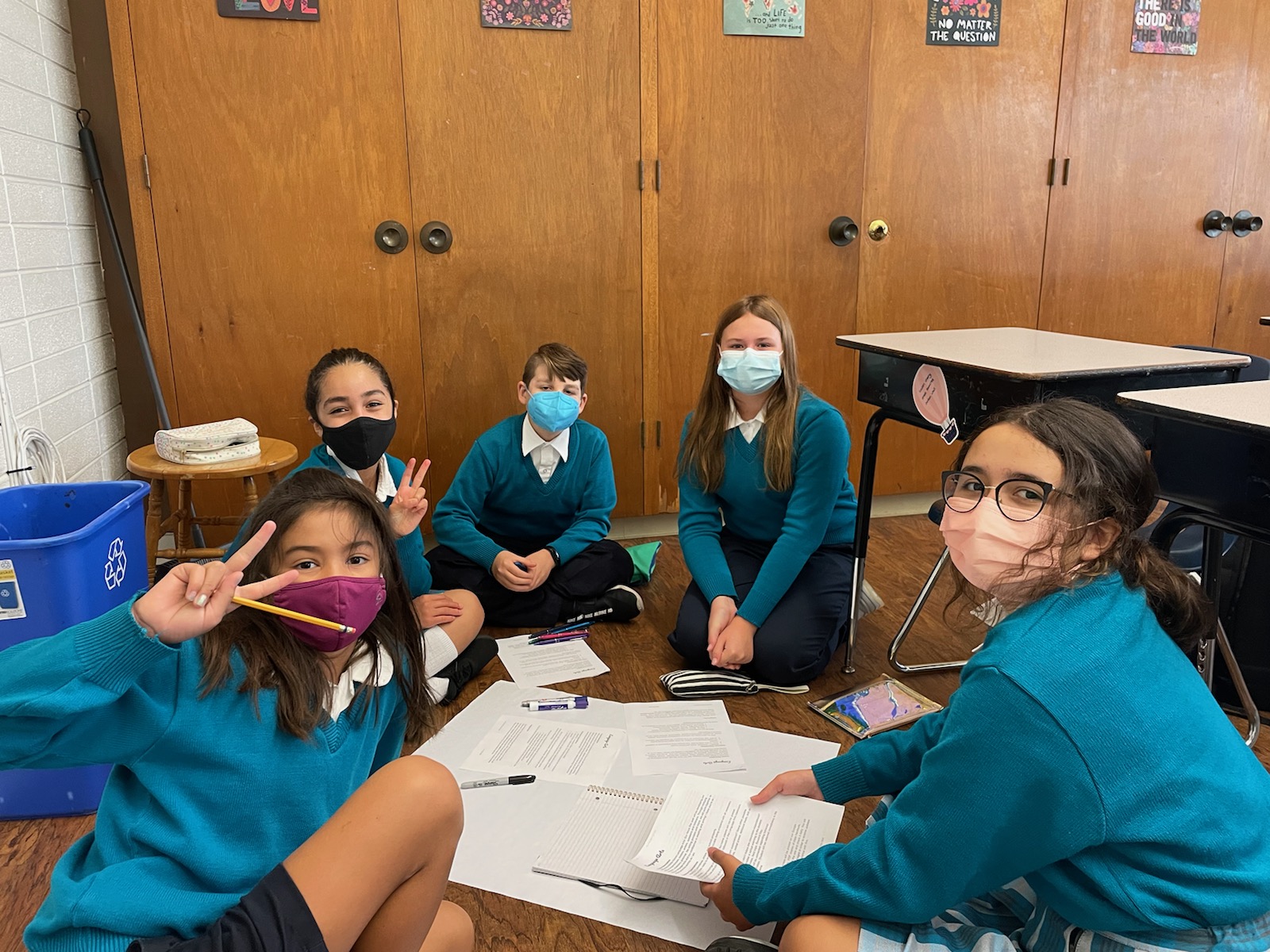 ---
Back to School Mass
---
WASC/WCEA Accreditation

We are proud to share that the 2021 WASC/WCEA Accreditation process proved a great success for St. Finn Barr Catholic School! The self-study report developed by the faculty and staff in collaboration with school parents was affirmed by the visiting committee, who rated the school "highly effective" in nine out of ten accreditation factors.
As a result, the school was granted a 𝗳𝘂𝗹𝗹 𝟲-𝘆𝗲𝗮𝗿 𝗮𝗰𝗰𝗿𝗲𝗱𝗶𝘁𝗮𝘁𝗶𝗼𝗻 status. For each year before 2027, the school will submit a report on the Action Plan generated by the 2021 self-study document.
---
May Crowning
May is the month of Mary! During May, throughout the Catholic world, special devotions honor the Virgin Mary. "May Crowning" is a traditional Catholic ritual that occurs in the month of May and recognizes Mary as Queen of heaven and earth.
.
.
.


---
St. Finn Barr Catholic School: Rise Up (Isaiah 60:1-2)

It is hard to believe we are wrapping up Catholic Schools Week, but we had such a wonderful week celebrating the spirit, learning, and growing that occurs each day in our school.
Thanks to Gary Villegas (first and third-grade dad), we can share the beautiful testimony of how strong our community has been during a very unique school year through this awesome video to all of our families and friends of St. Finn Barr. We hope you enjoy!
Thank you for all of the ways you have supported us this year and always! ☘️
Music in this Video -
Song: Rise Up
Artist: Andra Day
Album: Cheers to the Fall