Annual Appeal

Dear Families and Friends of St. Finn Barr Catholic School,

We are so grateful for your unending support as we continue living out our mission of preparing young, diverse minds for the future. While we continue to navigate the challenges of the pandemic, I am continuously amazed and proud of our St. Finn Barr students. Their strength and resilience are evident in how they show up ready to learn. We are also very blessed to have a caring and committed faculty and staff who are ready to engage learners and support this caring and loving community each day.
I am also aware that while we are strong, the long-term impact of this virus affects our social connections at home, at school, at work, in the community, and in church. While our students are incredibly resilient, we continue to look after their emotional, spiritual, and academic well-being. Our families have faced many challenges during this time, but our number one goal at St. Finn Barr Catholic School is to continue to maintain an environment where our students feel safe physically and emotionally so that they can be 100% open to learning.

This is the reason that this year we have focused our attention on our Resource Program, which supports each student's vast learning styles and needs.

The Resource Program offers support to teachers, students, and parents in many ways. Our resource teacher, Patsy Bouvet, provides support for teachers through assessments, coaching with instructional strategies, offering small group support in the classroom, and targeting instruction for individual students.
Our counselor, Kate Deaton-Gupta, is focused on the social and emotional well-being of students. Ms. Deaton-Gupta works closely with the staff and teachers to identify students who could use extra support, and she provides counseling sessions both one-on-one and in small groups. She also runs class-wide workshops geared toward social and emotional learning.
Here is what your donations can do: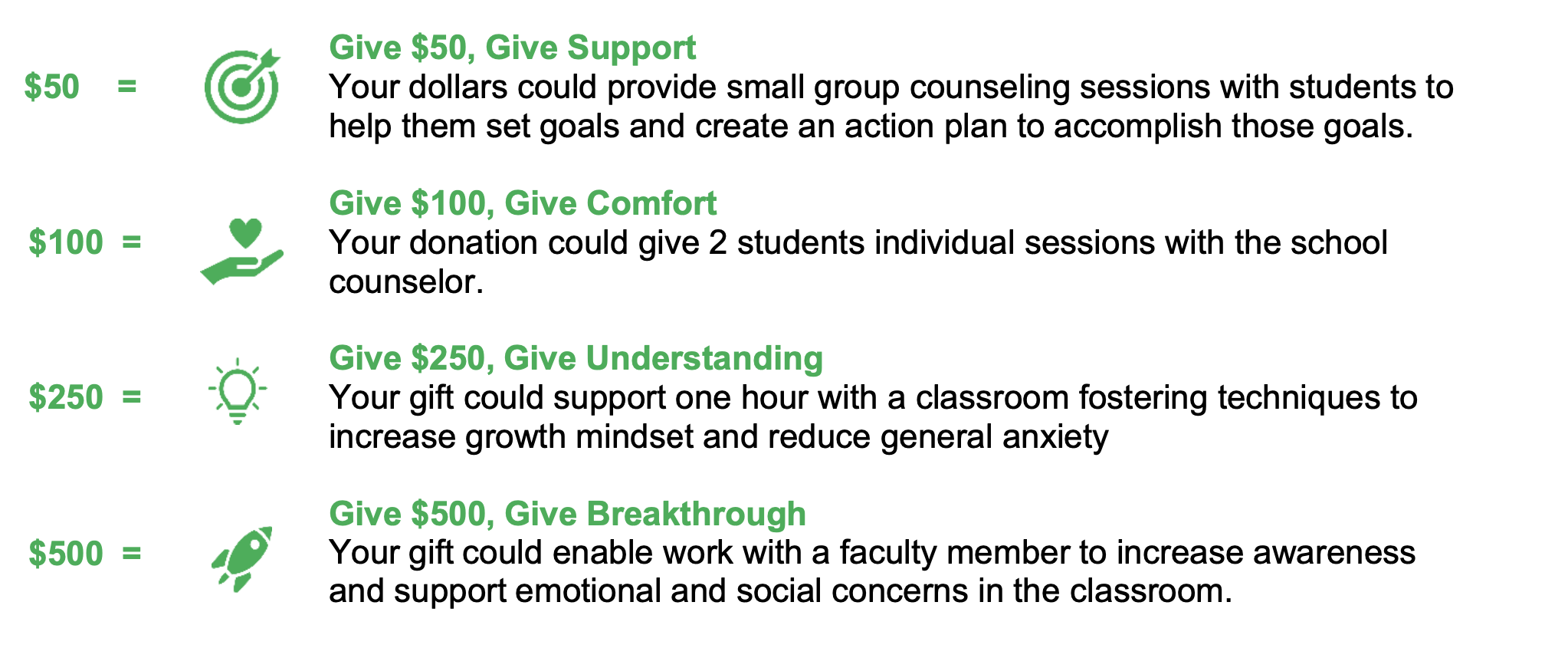 Your generous donation will ensure that our Resource Program can continue to support the needs of our students individually, in the classroom, and in support of our teachers. Help us to reach our goal of $10,000 by April 14th. You can scan the code below which will link you to our school's Annual Appeal page or visit www.stfinnbarr.org. You can also send a check to the school directly, please list "annual appeal" in the memo. Also, please consider sharing this letter with family, friends, and alumni.
We know our students continue to emerge as strong learners and compassionate children of God because of the amazing, caring, and professional support of the school community. I hope we can count on your generous support as we continue the strong St. Finn Barr tradition of creating and supporting a community that embraces every child's potential to become an independent thinker, lifelong learner, and valuable member of a larger community who lives Gospel values in the Catholic tradition.
Thank you,





Megan Kimble
Principal
PS: Double your gift! If your employer has a matching gift program, please let us know. Help us reach our goal!